Spellzone is an online English spelling course with thousands of pages of teaching, tests and games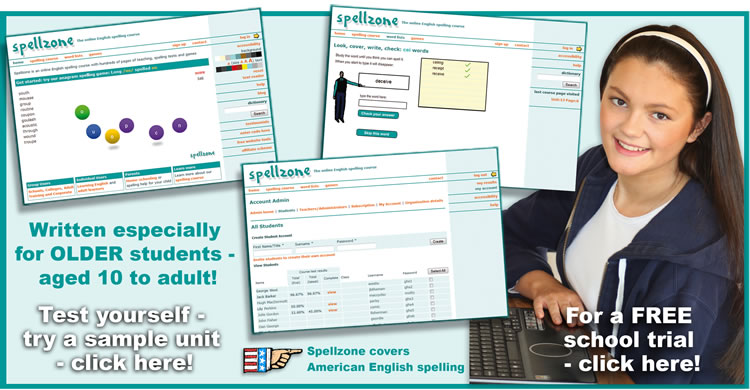 Features of Spellzone:
A complete spelling course.
Word lists. You can also upload your own word lists.
Look, Cover, Write, Check tests.
Games using both our word lists and your own.
Interactive course tests with instant feedback.
All your results and progress stored.
An English dictionary with sound and translation.
Spellzone is written mainly with older students in mind: teenagers and adults. The course is used to teach and improve English spelling in schools, colleges and adult training centres. Spellzone is suitable for helping students with dyslexia. It is also used to help teach English worldwide. Read more about Spellzone.
This spelling course can be used at home as well as in school or college and on your mobile phone or tablet.

I have enjoyed using your program with my pupils ..... they love your site. In fact they wanted to study through break time as well! High praise indeed.


UK teacher

I think Spellzone is a very good web site. I used to find spelling boring but now I think it is pretty fun!


Student age 11

I notice the difference when they have been using Spellzone - it really fits the bill for older students.

more
Ciara Heenan, specialist SpLD and dyslexia teacher at Mossbourne Community Academy, Hackney

This is a brilliant interactive on-line resource which helps improve individual's English spelling

more
John Lewis Partnership
More information
For teachers: schools, colleges, adult training and corporate and FAQs for teachers and tutors
For individuals: learning English or vocabulary and adult learners
For parents: home-schooling or help for your child
Or try Word lists, Games, Tests or free course units