Three steps to spelling success...
1. The Spelling Ability Test
Take the test to get a baseline score
and a personal course pathway.
2. Spelling Course
Work through your personal course
pathway based on phonic progression.
3. Word Lists
1000s of targeted lists or your own to
use with fun activities and worksheets.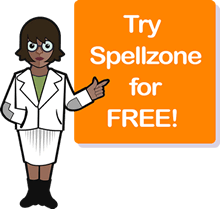 "I notice the difference when they have been using Spellzone – it really fits the bill for older students."
Mossbourne Community Academy
read more...