Spellzone is used by students aged seven to adult to improve their spelling, including those learning English as a foreign language and those with dyslexia.
Three steps to spelling success...
1. The Spelling Ability Test
Take the test to get a baseline score
and a personal course pathway.
2. Spelling Course
Work through your personal course
pathway based on phonic progression.
3. Word Lists
1,000s of targeted lists or your own to
use with fun activities and worksheets.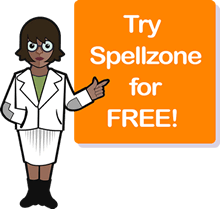 "We have now purchased Spellzone and we are delighted with it! "
Teacher, Primary School, UK