Three steps to spelling success...
1. The Spelling Ability Test
Take the test to get a baseline score
and a personal course pathway.
2. Spelling Course
Work through your personal course
pathway based on phonics progression.
3. Word Lists
1000s of targeted lists or your own to
use with fun activities and worksheets.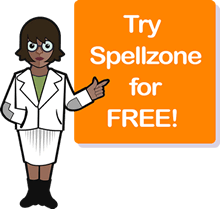 "Easter eggsellence for school children everywhere!"

"In this very difficult time I have had no problems accessing Spellzone! A wonderful resource for Y2 upwards!!! Teachers can set their own spelling lists and create word lists for any topic - brilliant!"
Teacher, Independent Day School, UK