Three steps to spelling success...
1. The Spelling Ability Test
Take the test to get a baseline score
and a personal course pathway.
2. Spelling Course
Work through your personal course
pathway based on phonic progression.
3. Word Lists
1,000s of targeted lists or your own to
use with fun activities and worksheets.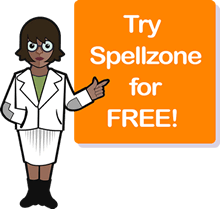 "I have enjoyed using your program with my pupils ..... they love your site. In fact they wanted to study through break time as well! High praise indeed."
UK teacher
Word Lists...
All the words in our lists can be used with our spelling games. Join us to create your own word lists!
Dictionary
People say...
"For the first time in my life I am excited about improving my spelling. This course looks just great. There seem to be so many interesting ways at looking at the difficulties."