Unit 21 - Spelling ie and ei words
One of the best known spelling rules is: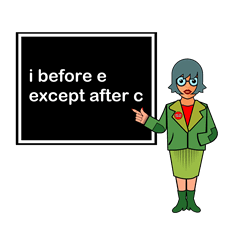 But does this rule really work? Is it true ALL the time?
The answer is:
As with most spelling rules, it works MOST of the time - but not always.
This Unit teaches you when to use ie and when to use ei.
First, take a look at these words.
They all have the long /

ē

/ sound:
ie as in field
ei as in receipt

field
shield
wield
yield
brief
chief
grief
belief
relief
mischief
niece
piece*
bier*
tier*

pier*
cashier
siege
shriek
priest
fierce
pierce
achieve
believe
relieved
reprieve
retrieve
diesel
hygiene

ceiling*
receipt
receive
deceive
conceive
perceive
conceit
deceit
NOTES:
1) Words marked * are homophones. Please see page 9
2) The /

ē

/ sound on the end of a word is usually spelled with the letter y but it can be ie.
For example:

a) Shortened words e.g.


| | | | |
| --- | --- | --- | --- |
| budgie | movie | nightie | Mountie |


b) 'Pet' names e.g.


| | | | |
| --- | --- | --- | --- |
| Jackie | Charlie | auntie | sweetie |


c) Slang words e.g.


| | | | |
| --- | --- | --- | --- |
| goalie | rookie | techie | walkie-talkie |


d) Other words e.g.


| | | | |
| --- | --- | --- | --- |
| calorie | eerie | genie | prairie |
Look at the words in each list.

You will see that, for these words with the long /

ē

/ sound, this rule DOES work: